This is a great meal but I maybe only make it when peppers are in season because it does take a bit of time to make. It is so worth it though and the kids are coming around to this dish. They personally like the peppers to be raw, so I put a few on the side that are raw and they have their stuffing on the side and enjoy it that way.
One thing I have done when short on time is to slice the peppers and put them in the oven to cook alone while I prepare the stuffing. Such a colorful stuffing right!?
This gets them softer and when I pull them out to stuff they are already mostly cooked, so just another 20 minutes in the oven with the cheese on top finishes this dish off nicely when in a time crunch. I add tinfoil to the bottom of my pan for easier clean up.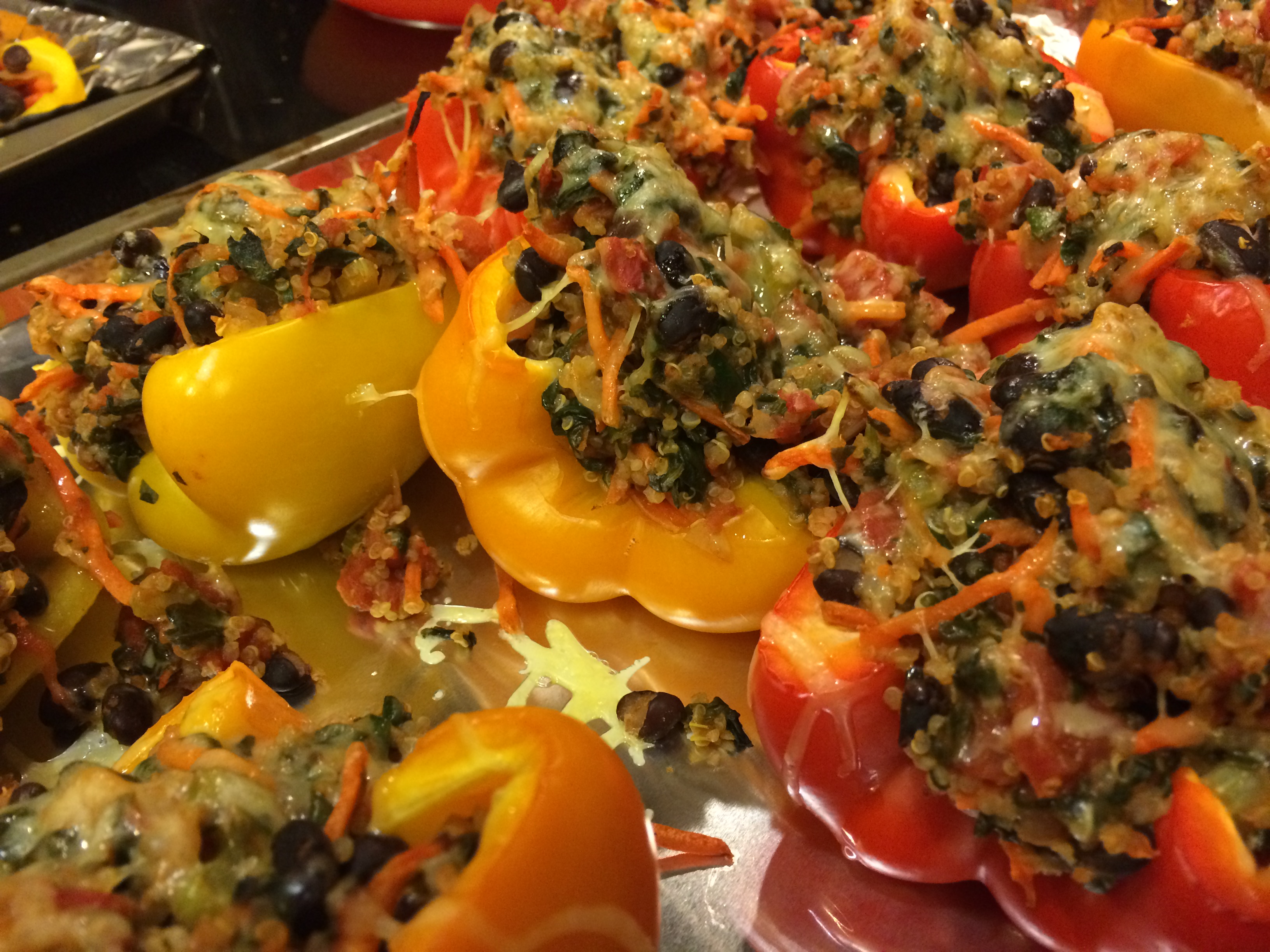 Here is the finished product! Super easy to take for lunches and great cold too! Enjoy!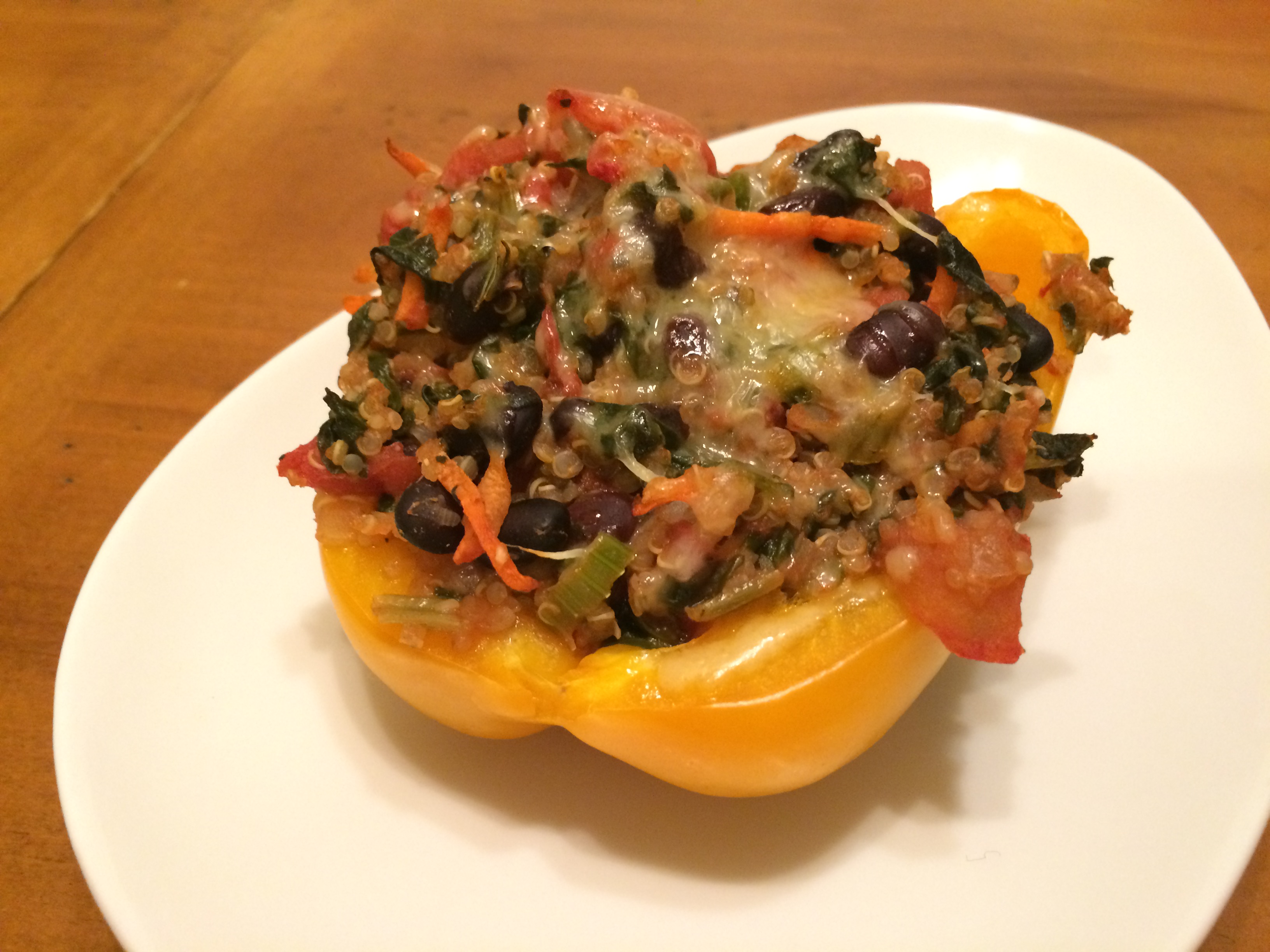 Quinoa Stuffed Peppers
This is a very flavorful dish. Takes a little bit of time to make but you can make the stuffing part ahead of time so then it is just cutting the peppers and stuffing them at dinner time. If you need some meat to the dish, you can ground up some meat and mix in the stuffing also.
Ingredients
1 medium Onion, finely chopped (1 cup)
2 Tbsp Olive Oil
2 stalks Celery, finely chopped (½ cup)
1 Tbsp Ground Cumin
2 cloves Garlic, minced (2 tsp.)
1 10 ounce pkg Frozen Chopped Spinach, thawed and squeezed dry
2 15 ounces cans Diced Tomatoes, drained, liquid reserved
1 15 ounce can Black Beans, rinsed and drained
¾ cup Quinoa
3 large Carrots, grated (1 ½ cups)
1 ½ cups Cheeses, grated, divided
4 large Bell Peppers, halved lengthwise, ribs removed
Instructions
Heat oil in saucepan over medium heat. Add onion & celery, and cook 5 minutes, or until soft.
Add cumin & garlic, and saute 1 minute. Stir in spinach & drained tomatoes. Cook 5 minutes,
or until most of liquid has evaporated.
Stir in black beans, quinoa, carrots, and 2 cups water. Cover & bring to a boil. Reduce heat to medium-low, & simmer 20 minutes or until quinoa is tender. Stir in 1 cup cheese. Season with
salt & pepper, if desired.
Preheat oven to 350 F. Pour liquid from tomatoes in bottom of baking dish. Fill each bell pepper half with heaping ¾-cup quinoa mixture, and place in baking dish. Cover with foil,
and bake 1 hour. Uncover and sprinkle each pepper with 1 Tbsp. remaining cheese.
Bake 15 minutes more or until tops of stuffed peppers are browned. Let stand 5 minutes.
Transfer stuffed peppers to serving plates, and drizzle each with pan juices before serving.