Have you ever made your own Trail Mix? They are convent to buy but even more fun to make as a family activity! Less sugar in our homemade variety too! We have been having some warmer weather (60's) this past week, so I decided to get out for a nature walk with the kids. We made a big batch of this homemade trail mix to take with us. With the extra we made serving size bags for after school snacks. Learn how we made it below!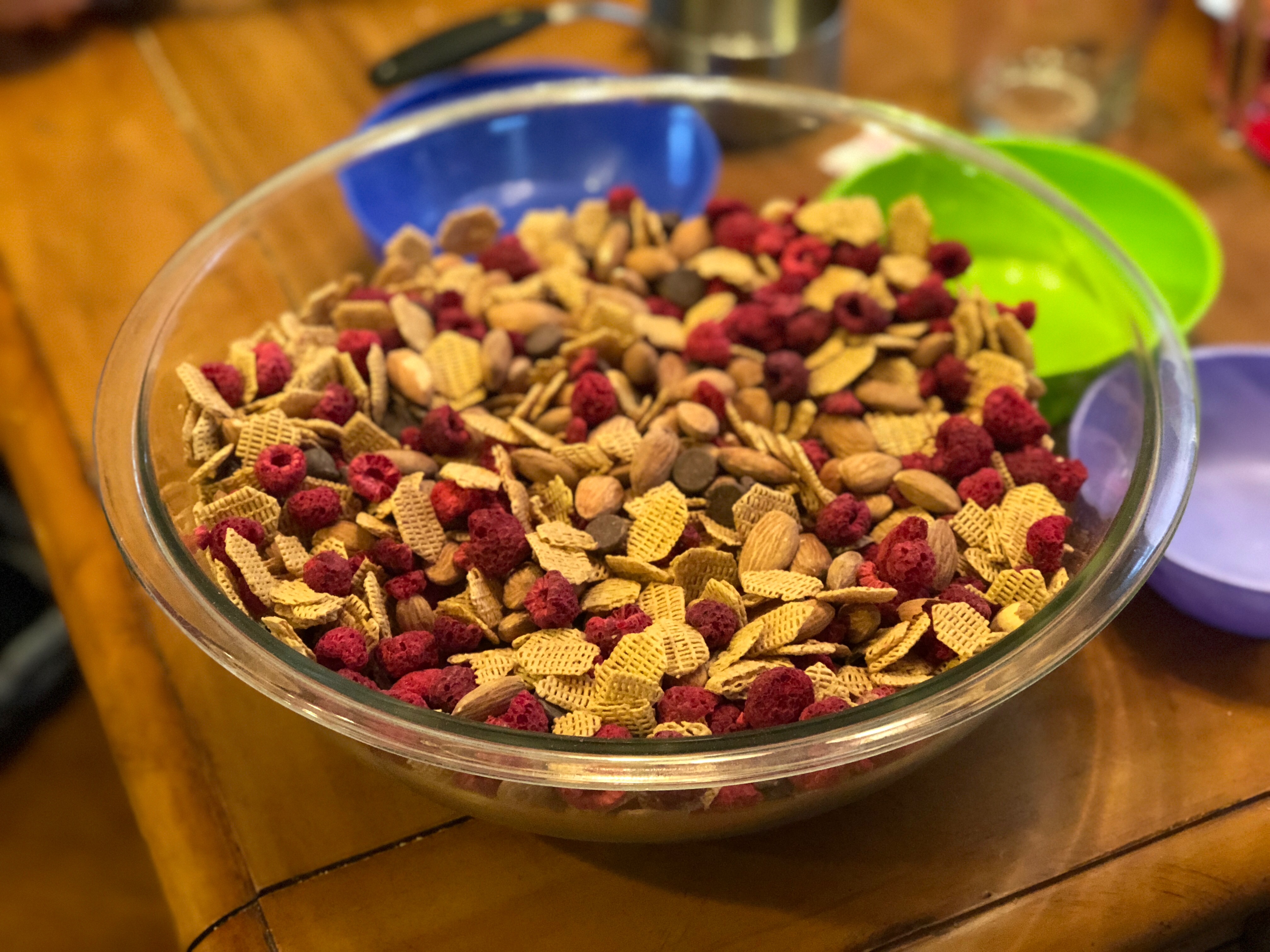 I knew I wanted it to be somewhat healthy but also fun for the kids, so I created our different category of foods groups that would make up our Trail Mix. We had NUTS, DRIED FRUIT, WHOLE GRAIN, SEEDS, and something SWEET as an extra. 
Then we brain stormed as a family on what we could have in each food category. You can let each kid pick a category and they get to decide what they want to add from the list into the Trail Mix. They really feel involved with the final outcome and are more willing to eat it all too! We went shopping together for the items and here is what we decided to add to ours!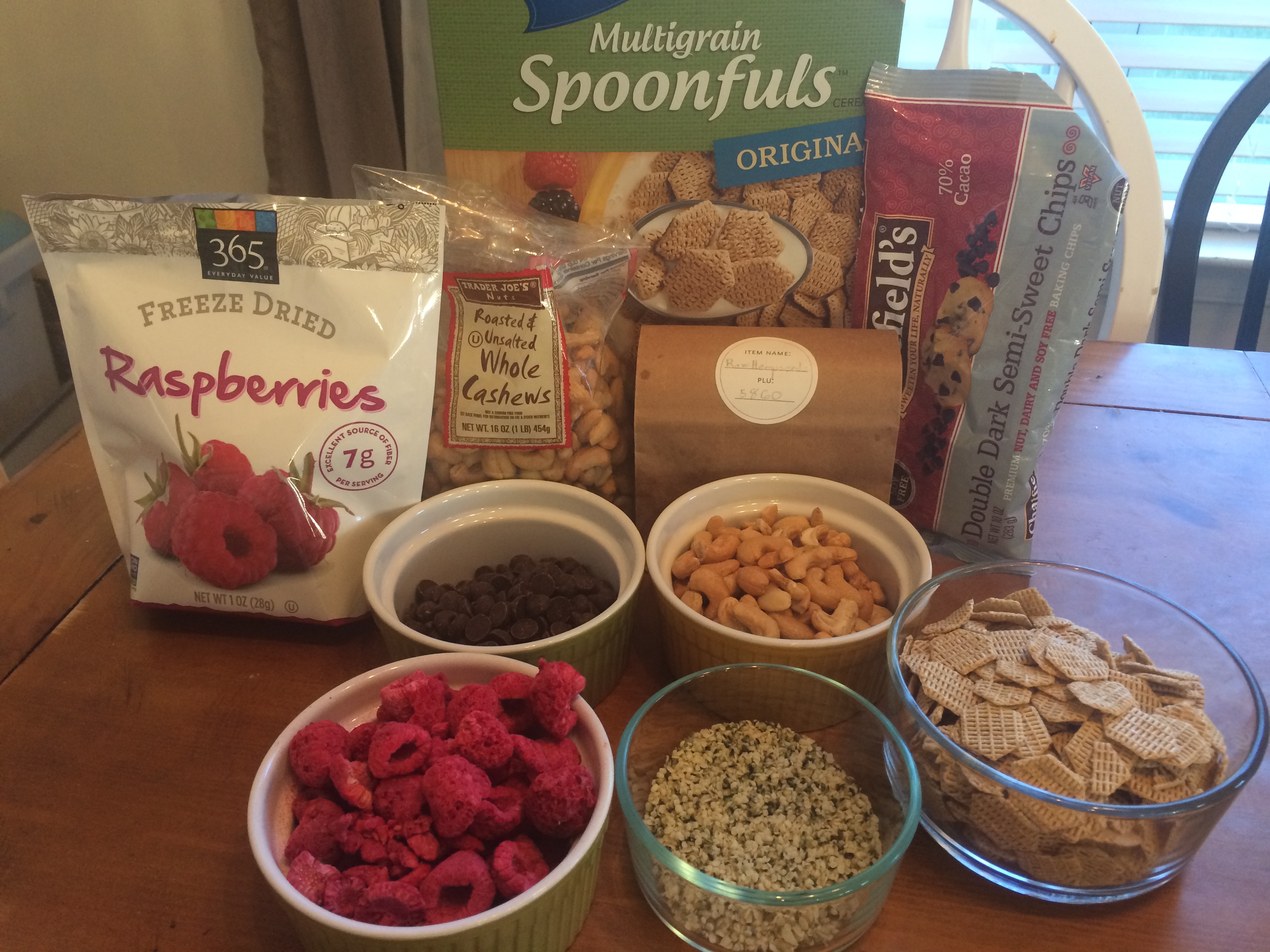 *Main Ingredients* (Equal parts of each. We did 2 cups each)
NUTS – These are going to be great for fiber and healthy fats. You want to choose raw or dry-roasted and unsalted when buying. Some examples are walnuts (great for omega-3 fats), pecans, almonds (vitamin E and iron), cashews, macadamia nuts, or pistachios already out of their shell.
DRIED FRUIT – This adds a nice natural sweetness and great sources of fiber, antioxidants, calcium and vitamins A, C, and K. Be careful though, because some options have a TON of sugar added. Read ingredients! Some of our favorites are dried raspberries, dried apricots, dried cranberries, dried blueberries, dried mango, dried apples, banana chips, and the list goes on!
WHOLE GRAIN – This adds an extra crunch to the trail mix and helps balance out the flavors. Some ideas are a whole grain cereal, mini pretzels, air popped popcorn, granola, or toasted oats.
*EXTRAS* (About a handful extra. We did 1/2 cup each of Seeds and Sweets)
SEEDS – These give a extra boost of nutrients into your trail mix. Some examples are hemp seeds (omega-3 fats, magnesium, potassium, calcium and more!) pumpkin seeds, sunflower seeds, sesame seeds, or flax seeds. 
SWEET – This category the kids love!! Our favorite is dark chocolate chips for the health factor. You could do peanut butter chips or even toasted coconut. Stay away from the sweets that have the extra food colorings. Simple is best with going the chocolate route.
SPICES – Optional. Just sprinkle on what you want. We didn't add any, but when I was looking at homemade trail mix ideas they mentioned it. I didn't want to leave it out incase it was something you would like to add. Some ideas to add to the mix to spice it up are sea salt, curry, ground ginger, cinnamon, nutmeg, cardamom or cayenne pepper. Experiment and let me know how it turns out!
Now that you know what you are going to use from each category, all you need to do is combine equal parts of nuts, dried fruit and whole grain for the crunch. To finish it off you can add in a handful of the seeds and something sweet and sprinkle any spices for the finishing touch. Have the kids stir it up and you are done!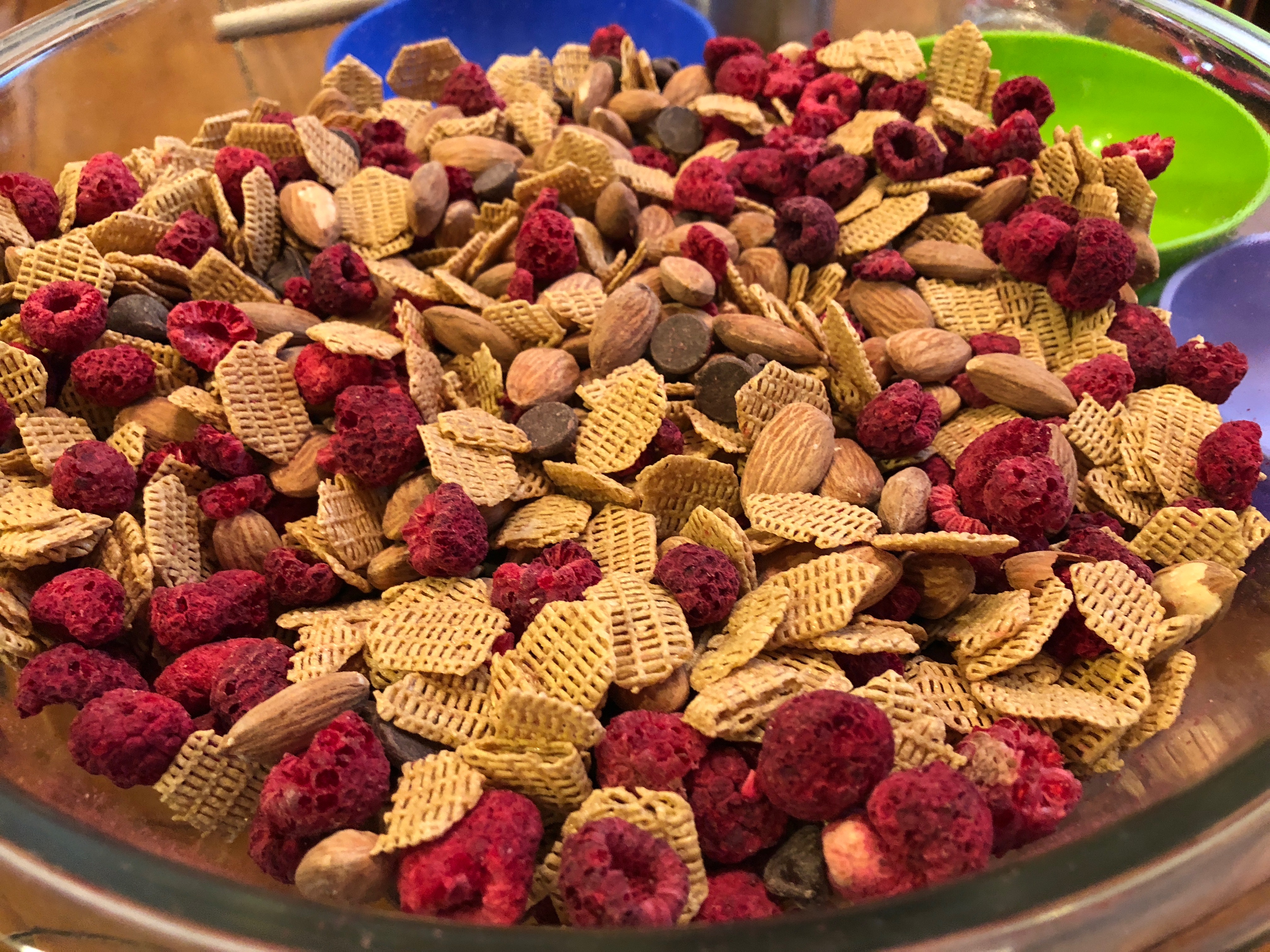 Make a big batch and store it in an airtight container for about a month OR do what I did and divide it into individual portion bags for a quick after school snack or to take on a fun trail walk as a family. I used a quarter cup measuring scoop to create my serving sizes for each bag.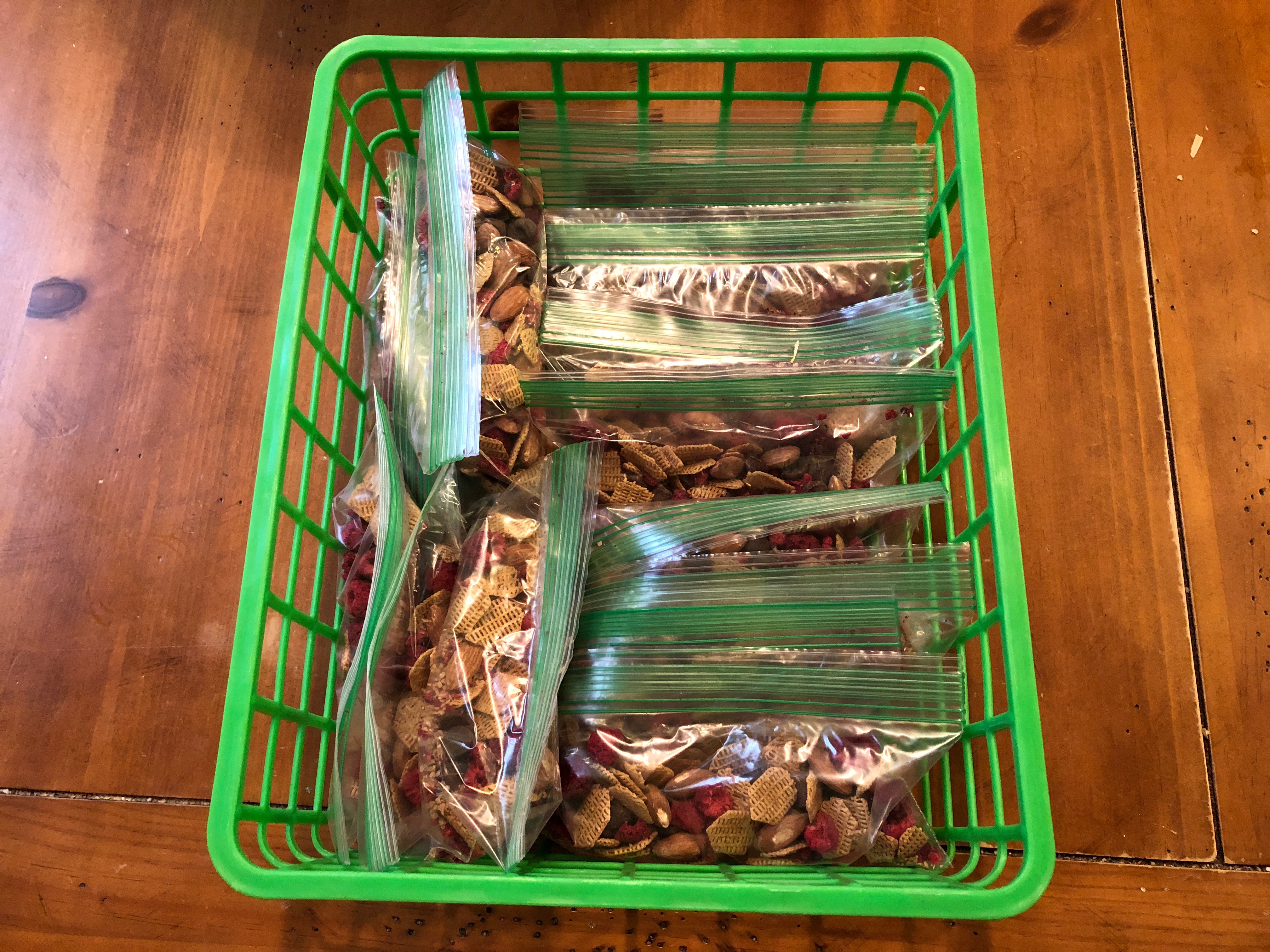 Now grab some snack bags and get outside and explore the nature around your area!! You will be amazed at the places you can find in your town to go on a trail walk or hike. Such a wonderful way to bond with the family and leave those electronics behind. It is a FREE activity too!!