This is my go to dessert if I ever need to bring anything for an event, host my own event, or around the holidays it is a must to make. It is a pretty healthy dessert. My husband and kids approve too.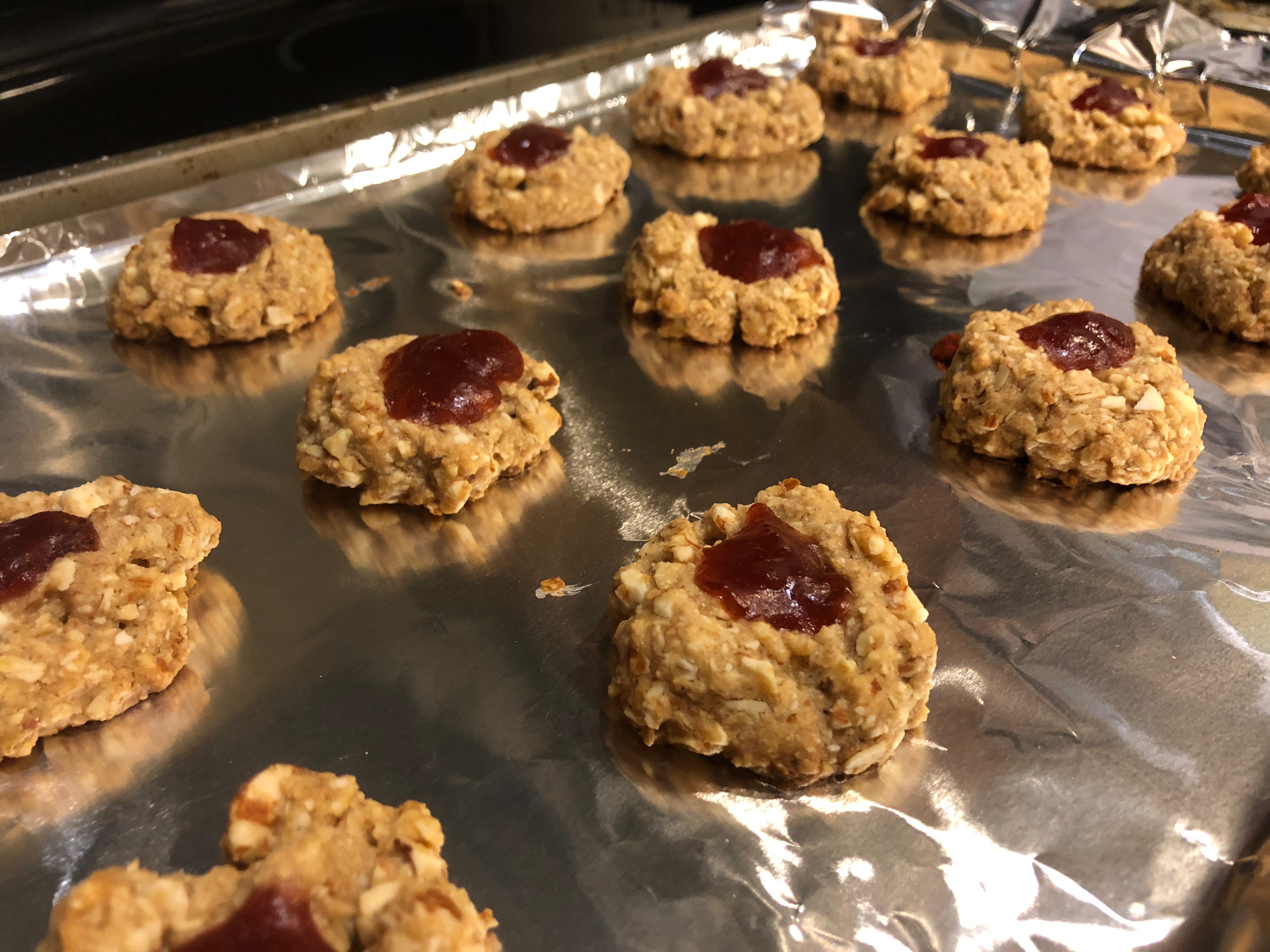 You will need almonds, rolled oats, whole wheat flour, oil, maple syrup, salt, and strawberry Jam that has no high fructose corn syrup. After you have your ingredients, you will put the almonds and oats into a food processor and pulse until coarsely ground. Play around with how fine you want it. I have done chunkier ones, but I like less of a crunch so I pulse a few extra times.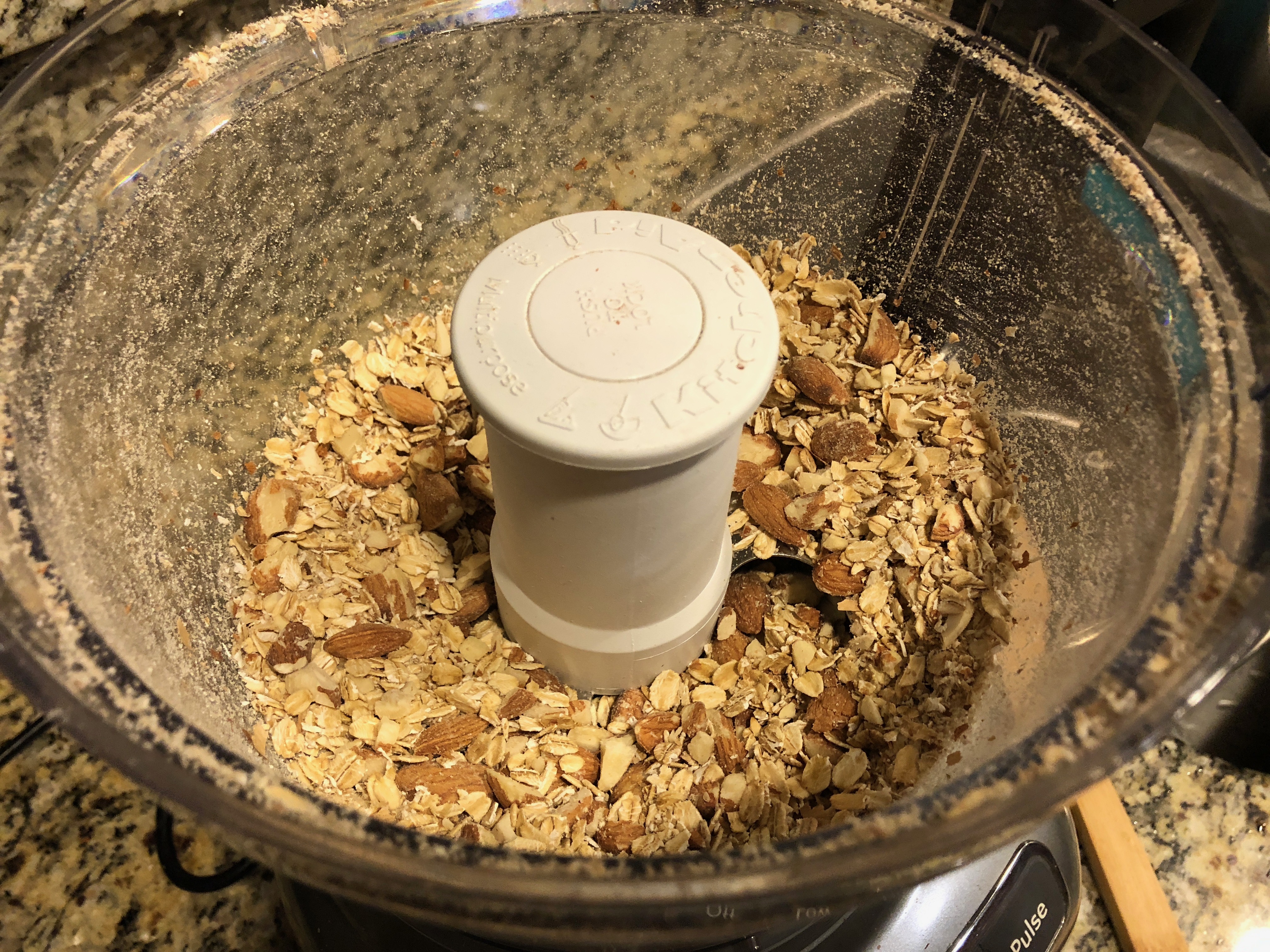 Next, you mix all the ingredients, except the strawberry jam, together and stir until combined. It gets messy now! Roll walnut sized balls of the dough in the palm of your hand to form each cookie. Mine seem to be a little larger than that but I like this size. Arrange them on your baking sheets. I put tin foil down to make an easy clean up. Once arranged, using a clean thumb to press down the middle of each ball. this makes a nice indention. The kids LOVE helping with this part!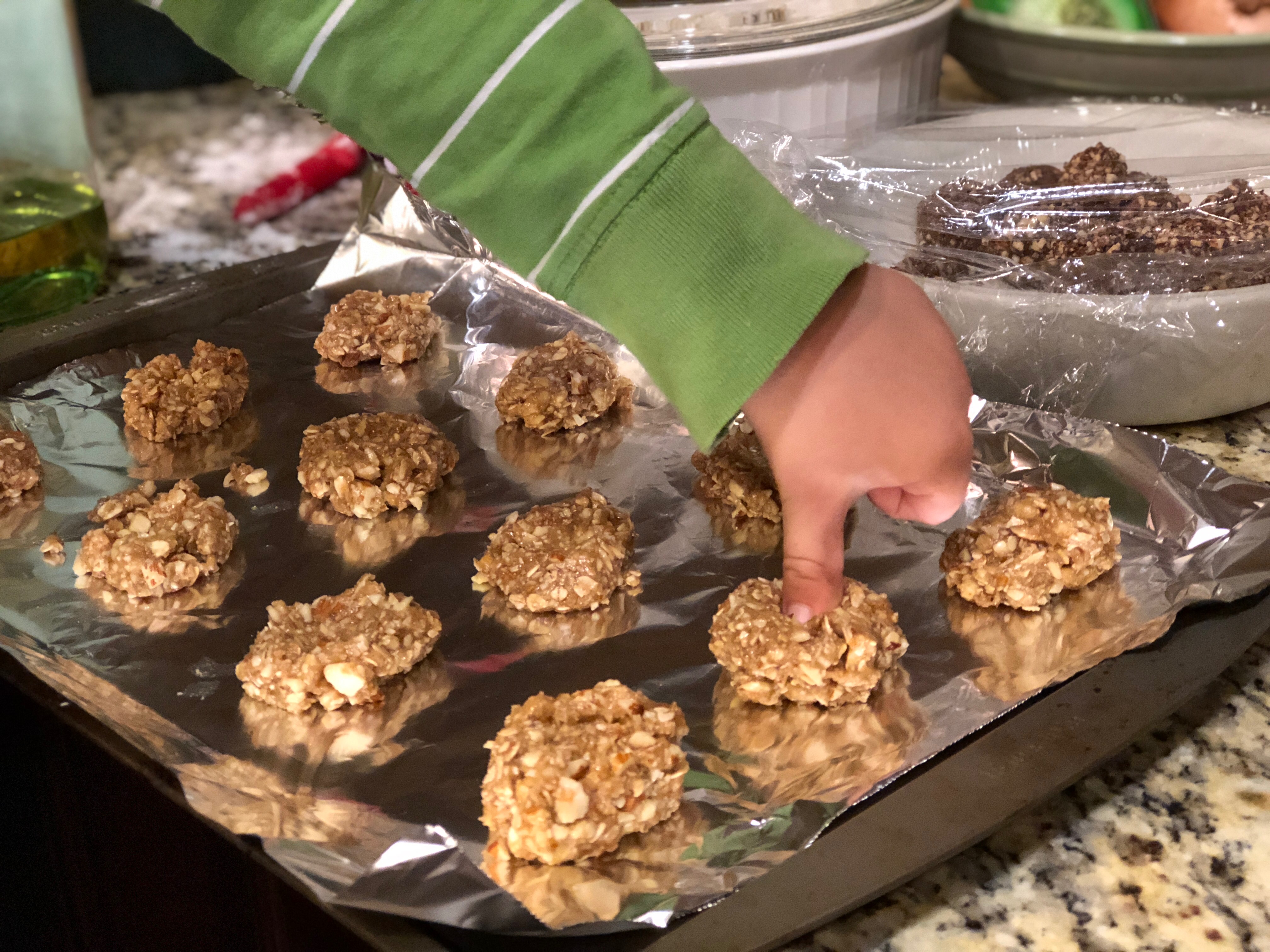 After you have your thumbprint, you will need to get your jelly. We used a strawberry jelly from Trader Joe's. I have a super small baby spoon that I use to scoop it out and plop it into each cookie center. This is another part that the kids help out with.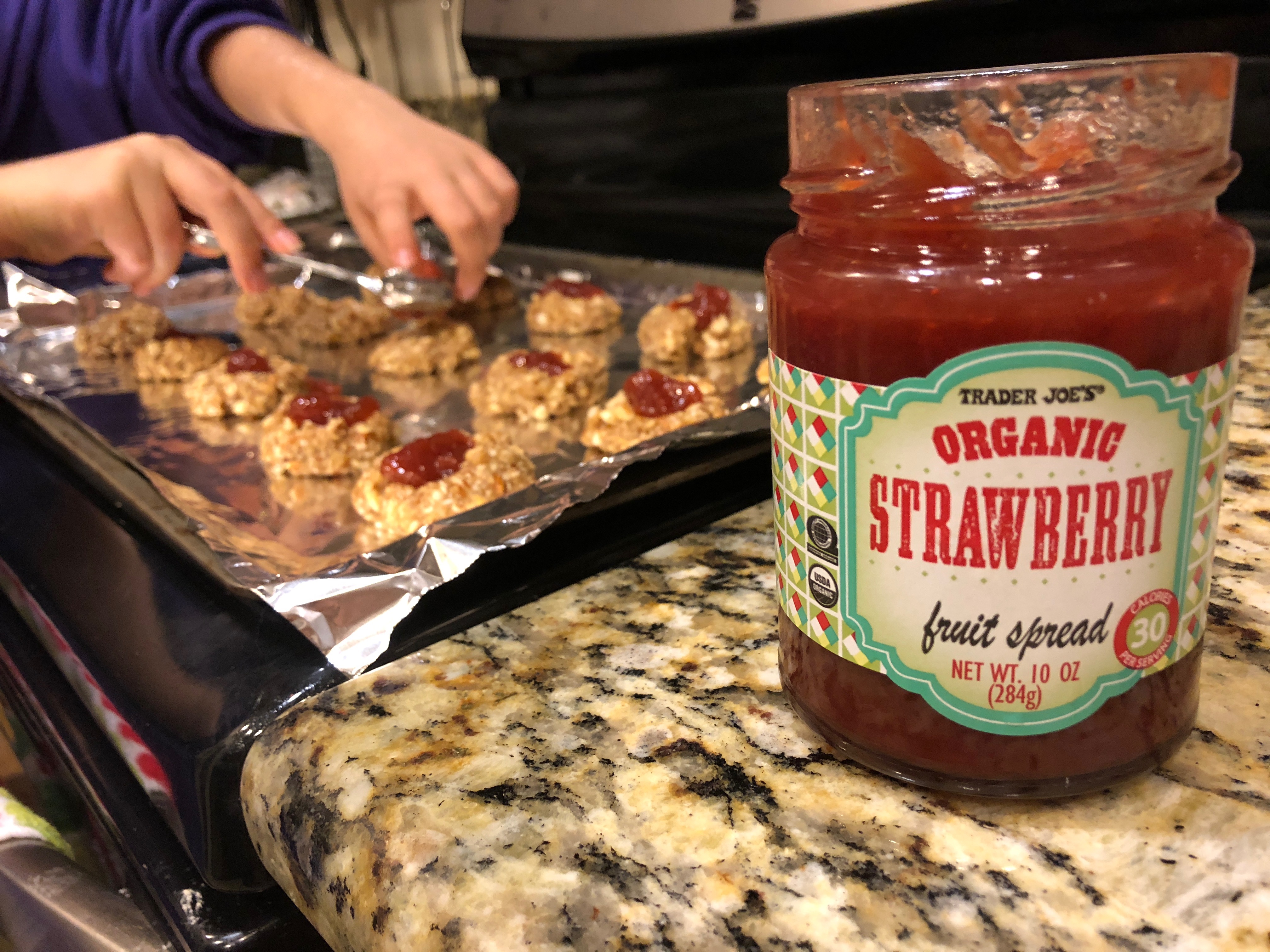 Now, it is time to bake the cookies for 15-20 minutes at 350 degrees. They are so delicious when warm right out of the oven!! Enjoy!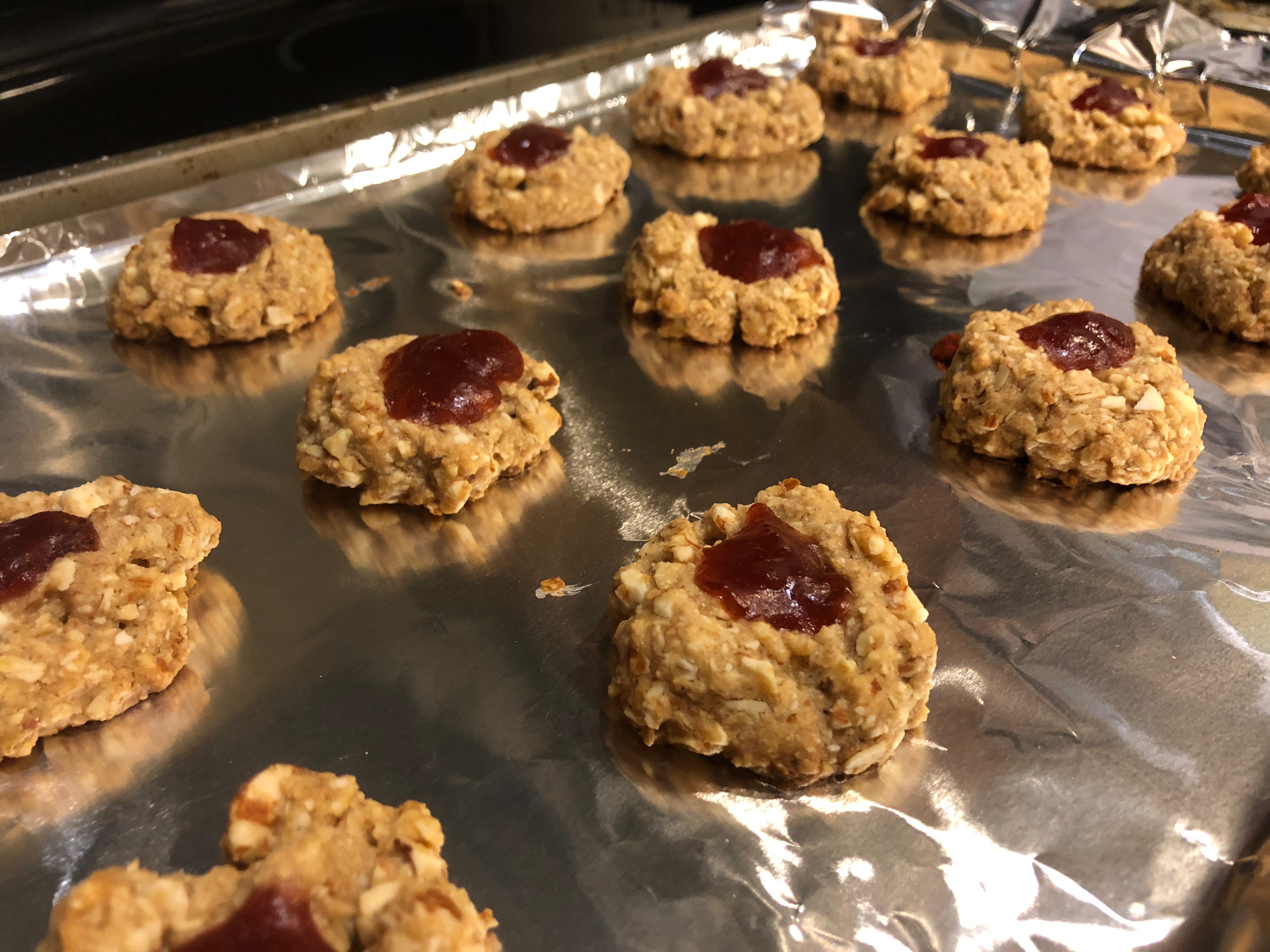 Thumbprint Cookies
This is a quick healthier dessert to make for the family or to take to a gathering. The prep is quick but does make you have to clean your food processor. Other than that it is just a large bowl for clean up after. My whole family loves these and I love that it isn't full of sugar.
Serves:
20-30 cookies depending on size of balls
Ingredients
1 cup Almonds, can also use pecans
1 cup Rolled Oats
1 cup Whole Wheat Pastry Flour
½ cup Safflower Oil (can also use olive oil)
½ cup Maple Syrup
¼ tsp Salt (Himalayan Pink Salt)
Strawberry Jam (Find one with out high fructose corn syrup)
Instructions
Preheat oven to 350 degrees. Put almonds and oats into a food processor and pulse until coarsely ground.
Transfer to a large bowl and add flour, oil, syrup and salt. Stir to combine well.
Roll walnut-sized balls of the dough in the palm of your hand to form each cookie, then arrange on 2 large baking sheets, spacing cookies 2 inches apart.
Press your thumb gently down into the center of each cookie to make an indentation (My kids love helping me with this part.).
Spoon a scant teaspoon of jam into each indention.
Bake cookies until golden brown and just firm around the edges, 15 to 20 minutes.
Transfer to a rack to let cool completely, then serve immediately or store between layers of waxed paper in an airtight container.
www.bairnecessity.com
Nutrition Information
Serving size:
2 cookies
Calories:
210
Fat:
13g
Saturated fat:
1g
Carbohydrates:
21g
Sugar:
9g
Sodium:
40mg
Fiber:
3g
Protein:
4g
Cholesterol:
0mg